For many Binghamton residents, the closest we have come to experiencing dining under stars; with the exception of the backyard picnic table, has been from the occasional movie depicting the many outdoor sidewalk bistros in such far off places as Paris, Rome and, even, New York City. We no longer need to live vicariously through the eyes of a camera lens or our world traveling friends and family.
Binghamton has many outdoor dining options with more being added each summer. Each restaurant has gone to great lengths to add their own spin on the dining al fresco experience. There are menu options for every palate and budget from fine French Cuisine, Lobster, Burritos, Binghamton's version of the Garbage Plate, Burgers, and Oysters. Below is a brief run down of those I have frequented recently with links to their respective Facebook pages.
Nestled between State and Washington Streets you can enjoy a relaxing lunch or dinner from either Tom & Marty's, Uncle Tony's or Dillinger's Celtic Pub & Eatery; all of which offer occasional live local bands.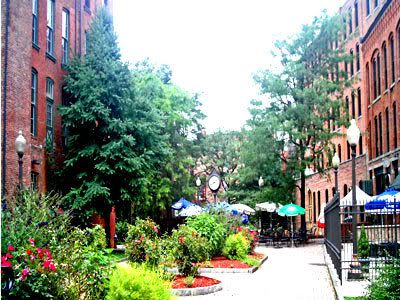 Just around the corner on Hawley toward Washington St and you can find yourself relaxing on the Zona & Co. Grille's Deck; perfect for people watching or listening to the sounds of live local bands.
Not to be missed is Binghamton Hots' recent entry into the outdoor dining experience on Washington St. A perfect setting for a quick, delicious lunch followed by a leisurely stroll down gorgeous Washington Street for a little bit of shopping.
Remlik's entered the outdoor dining scene just last year with the grand opening of their deck overlooking the rail yard. It's location offers amazing views of the summer sunsets to the west.
If a great view of the fireworks while enjoying a cocktail with some friends is your cup of tea; then be sure to check out the outdoor seating at Tranquil Bar & Bistro on Pine Street. Being one block away from NYSEG Stadium puts you up close and personal.
If being right in the heart of downtown on Court Street is more your style, then check out
Sake-Tumi
. Whether enjoying a meal or simply an after work cocktail, you never know what you may find right near by. If you are lucky, you might spy a belly dancer performing or drum circle practicing outside neighboring
Imagicka
and
Merlin's Dance Club, Wine Bar & Lounge
.
I am sure I may have missed some outdoor dining options along the way; for that, my apologies. Meanwhile, make it a point to check out why many of us are excited about Binghamton and all it has to offer.